The preconstruction approach plays a pivotal role in the overall success of a project. W.T. Rich's goal is to adhere to the owner's mission to maintain a safe and orderly environment at all times over the course of a project while providing the most logistically plausible and cost effective approach to construction long before the construction phase even begins. It is in this planning stage that we lay the foundation for a successful project delivery.
MOBILIZATION
W.T Rich believes that the early days of the preconstruction process is important to create the proper momentum and context for the success of a project. Upon notice of award, our team will mobilize immediately to:
Establish a framework for ongoing and effective communication for the project team

Develop, discuss and commit to a highly detailed schedule of preconstruction activities

Discuss, explore and agree on early construction work approach and timing

Meet stakeholders to fully understand their needs, especially with regards to safety, security, site access, noise, etc.

Initiate focused design review and cost estimatr3e for the current design documents

Discuss, analyze and select fast-track approaches and strategies for the project

Develop a detailed site logistics plan
COST ESTIMATING
One of the most important management responsibilities for the CM during preconstruction is to develop detailed and accurate cost estimates for each design iteration. W.T. Rich Company typically provides up to four fully detailed and comprehensive cost estimates during the following stages: Schematic Design, Design Development, 60% Construction Documents and 90% Construction Documents.
VALUE ENGINEERING
The goal of our cost estimating efforts is not merely to predict the costs of construction as currently designed, but ultimately to make sure that the project can be built within defined budgetary limits. We assist the owner and the design team to understand where money is being spent, and where opportunities might exist to lower costs or to increase or enhance the building program while staying on budget.
SCHEDULING
During preconstruction, W.T. Rich develops comprehensive, highly-detailed project schedules. The goal is to develop a scheduling approach that factors in fast-track priorities, validates the overall time frame and correct sequencing for project completion, defines key project milestones and critical path activities, plans in advance for long lead-time items, and ultimately ensures a timely and proactive delivery of the project.
DESIGN REVIEWS
W.T. Rich prides itself on the depth and quality of the design and constructability reviews we conduct during preconstruction. These comprehensive reviews encompass review and analysis of design details, constructability, coordination between disciplines, code compliance, consistency between plans and specifications and identification of potential issues, omissions or questions.
PROJECT PLANNING AND PERMITTING
Project planning and permitting during preconstruction comprises an array of activities dedicated to ensuring that the project runs smoothly, safely and in line with the owner's highest expectations. This is when W.T. Rich will work with appropriate parties to develop, review, and finalize site logistics plans, project-specific safety plan, permitting requirements, quality program, and other similar planning requirements.
EARLY CONSTRUCTION PLANNING
Early construction work refers to work that is bid and awarded to a subcontractor prior to the completion of 100% construction documents. In the role of construction manager, W.T. Rich conducts an analysis during preconstruction to determine the need for early construction. If the need for early packages is agreed upon by the owner and design team, W.T. Rich then defines the precise scope of work, distributes bid documents, reviews subcontractors proposals and awards to the approved bidders.
LEAD TIME MANAGEMENT
Equipment and material availability, often drive project schedule. W.T. Rich assumes a proactive role during preconstruction, analyzing material lead time, and identifying those that are on the critical path for the project. We can deploy appropriate strategies for managing long or critical lead time items to ensure they arrive onsite when needed.
BIM PLANNING and PRELIMINARY MEP COORDINATION
W.T. Rich utilizes BIM-based 3D modeling to conduct MEP coordination on all of our project's. Through the early determination of materials deliveries, the need for temporary provisions, shutdowns, and tie-ins, W.T. Rich adds significant value and cost savings. As part of our standard operating procedures, our project teams are staffed with a dedicated MEP Coordinator and Implementation Manager and for more complex projects, we have the depth of staff and the skill set to also add an MEP Superintendent on site at 100% as necessary. Proper use of BIM begins in preconstruction when we develop BIM Implementation Plans and conduct preliminary MEP coordination.
COMMISSIONING PLANNING
Preconstruction provides the perfect time opportunity to begin the planning process for commissioning. W.T. Rich leads to this process by organizing in commissioning planning and review meetings and reviewing commission specifications and requirements. This early planning enables the selection, purchasing, and installation process align with the commission plan that will be executed during the latter part of the construction phase.
PROCUREMENT
Through a rigorous and diligent prequalification process, W.T. Rich will attract a full complement of well-qualified bidders across each trade. Crucial steps within our approach include:
Performing outreach to promote the project to quality contractors

Developing bid packages for each distinct scope of work

Defining and administering a fair and transparent bidding process that ensures a level playing field and strong competition

Utilizing our own direct experience and knowledge of contractors and the market to strengthen the evaluation process

Pursuing and fulfilling minority and diversity goals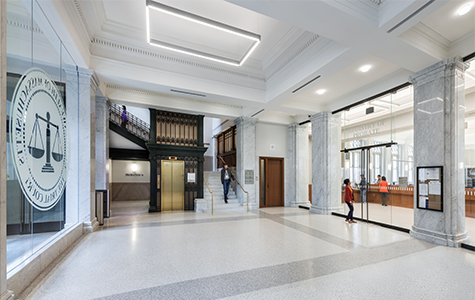 "The contribution of the staff of W.T. Rich Company to this tremendous success cannot be overstated. The efforts and effectiveness of field staff, supervision and management were fundamental to the extraordinary results achieved by the entire project team. In my professional experience, I have rarely had the pleasure of working on a project with such strong players at every position."
Louise Outler, Court Capital Projects, Office of Court Management
Salem Probate and Family Court